Instructional Design

Produced with Articulate Storyline. Designed to educate new corporate auditors and provide a refresher for existing auditors on COSO Internal Control and Framework as it relates to the audit process.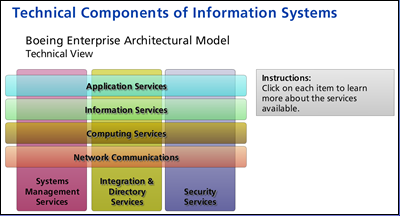 Produced with Articulate Storyline. Designed to provide basic overview to learners about Information Technology and its corporate auditors competency areas.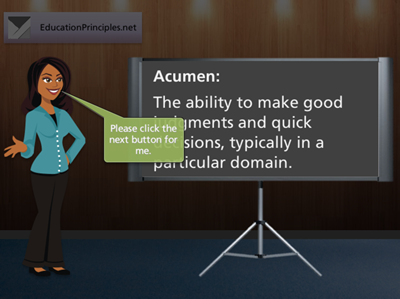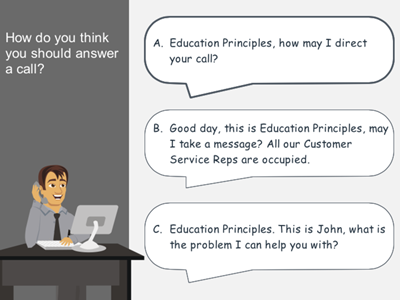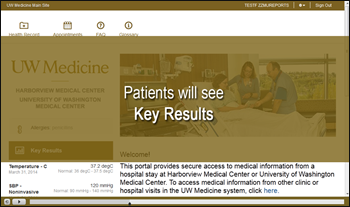 Produced with Adobe Captivate.  Designed to give hospital staff an introduction and overview of what the patient's will be able to access.  It includes Frequently Asked Questions at the end so that learners have a take-away that they can bring with them to answer patient questions.  Conforming to enterprise requirements, all projects had to be silent and not rely on voice-over narration.

Target Audience:
Medical students, physician assistance, and others that proscribe pharmaceutical drugs.
Purpose:
Students will learn about the Pharmaceutical industry's Direct To Consumer Ad campaign. They will learn strategies to counter the tactics so that they can treat their patients reducing the influence of the DTC influence.
Technologies used:
Rebuilt using modern Content Management System (CMS), this project has embedded documentary.  Learner and participant comment forums as well as real-time polling tools.  Self-assesment tools with back-end learner success tracking.
Projects for Centers for Disease Control and Prevention (CDC) were designed to meet W3C standards for Americans with Disabilities Act, Section 508. All projects were also designed to meet the minimum Netscape 4.0 and Internet Explorer 4.1 display abilities.
Additional samples on CD-ROM are available on request.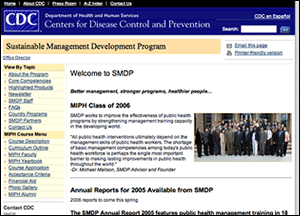 Target Audience:
Anyone interested in public health; from clinical doctors, disease advocates, outreach field workers.
Purpose:
Assorted projects within CDC.gov domain that meet the needs of individual public health programs.
Technologies Used:
Project uses both HTML, CSS, XML, Javascript, and Flash.
Designed and maintain
Security Awareness for Everyone (SAFE)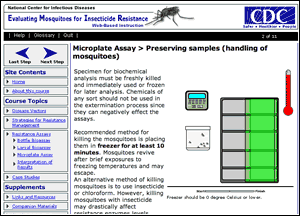 Target Audience:
Laboratory technicians, public health workers and policy makers.
Purpose:
Project includes Flash based animation sequences visually showing step by step laboratory procedures. Also included at the end of individual modules are JavaScript interactive questions. This project was designed to be worth continuing education credit for the students.
With this project I did all the writing as well as illustrations and animations.
Technologies Used:
It was developed before CSS was approved for use on CDC's external web site.
Project uses both HTML, CSS, and Flash.
HIV/AIDS Prevention Info Guide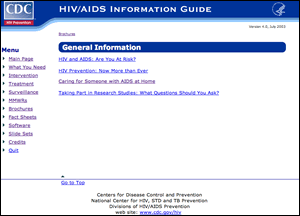 Target Audience:
Individuals who wish to have copies of publications produced by CDC under the topic of HIV/AIDS Prevention.
Purpose:
Self launching CD-Rom with HTML navigation that leads to PDF brochures, fact sheets, and statistical databases. Using HTML was considered desirable since this was a yearly project with new documents being added. The finished product was distributed at conferences and mailed upon request.
Technologies Used:
Project uses both HTML, CSS, JavaScript, PDF, and Flash.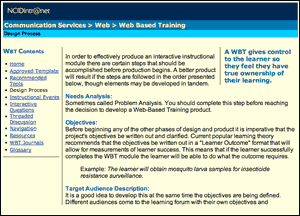 Target Audience:
Internal CDC staff
Purpose:
To introduce basic WBT terms, theories, design processes and technology to prospective internal clients.
Technologies Used:
Project uses basic HTML and JavaScript. It was developed before CSS was approved for use on CDC's intranet so it relies on tables for layout.